Suddenly Last Summer & Going South
STORY: A student is in love with his teacher, which borders on obsession. He chases his teacher in an attempt to get the teacher to admit his feelings. It's a short video and starts right in the middle of the story so it took me a minute to figure out what was going on. I watched it blindly without reading a review.
ACTING/CAST: Decent. There isn't really anybody else besides watching these two interact.
MUSIC: Unmemorable.
REWATCH VALUE: If I'm bored one day, maybe.
OVERALL: I felt a lot of pity for the student throughout the show but the ending is satisfying.
Native Title: 지난여름, 갑자기
Also Known As: Jinanyeoreum, Gabjagi
Screenwriter & Director: Leesong Hee Il
Genres: Romance, Drama
Tags: Short Film, Gay Romance, Student-Teacher Relationship, Gay Male Lead, LGBTQ+, Teacher Male Lead, Obsessive Male Lead, Student Male Lead, Teenager Male Lead, Adult-Minor Relationship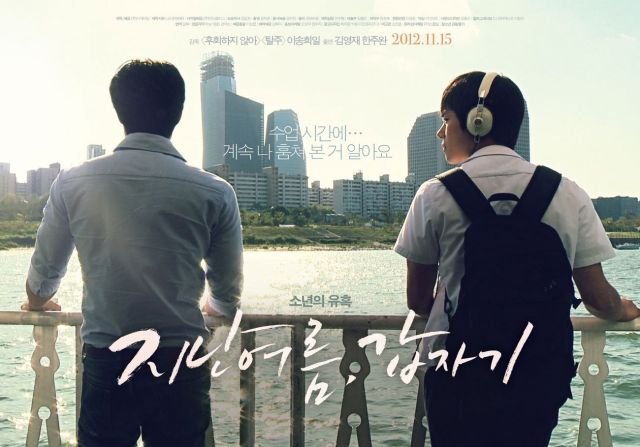 Spread the love Ji Wook is a cold-blooded detective who would brutally assault and stop at nothing to catch criminals. However, despite his perfectly masculine appearance, Ji Wook struggles with a secret desire to be a woman. At last, he decides to get a sex change. However, a gang Ji Wook had brutally arrested by…

Spread the love Adapted from the web novel "Semantic Error" (시맨틱 에러) by Jeo Soo Ri (저수리). Chu Sang Woo is a junior computer science majoring student who prizes reason, rules, and a rigid sense of what is right above all else. As part of his university work, he is told to work on a…

Spread the love Description: Where Your Eyes Linger (Korean: 너의 시선이 머무는 곳에; RR: Neoeui Siseoni Meomuneun Gote) is a 2020 South Korean web series starring Han Gi-chan, Jang Eui-soo, Choi Kyu-ri and Jeon Jae-young. The director's cut is set to be released in theaters in June 2020. Meet Han Tae Joo, the 18 year-old student and…
Facebook Comments